Tools Used:

 Figma, Notion and Miro.
Deliverables:

 Persona, Scenario Mapping, Prototype, Hi-fi Wireframes.
Ontario Park's interface is visually polluted and there is an overload of information not properly ranked.
In addition, a high volume of services is offered that is mixed with relevant content, without proper explanation, in multiple menus spread out at different moments of the website's exploration journey. The navigation flow is not fluid and it is necessary to have a vast prior knowledge to know which options are best to be chosen.
There is no visual consistency and this makes it even more difficult to understand how the task should be accomplished.
Another problem found was the difficulty in scheduling a campsite on the website, many users report the misuse by third parties of bots that book the campsite to be resold more expensive.
Firstly Redesign the website with the most updated guidelines to make the usability as smooth as possible. In addition, find new possibilities to notify users when is the best moment to access the website and find an available website.
I have started the assignment with secondary research or desk research about the company, its business, its goals and strategies, and mainly about its customers, goals, needs and pain points when they need to make a reservation through the website.
As part of the ideation process, I created a User persona, Empathy Map, a User Journey Map and a Task flow diagram to make a visual representation of the steps a user would take to reach their end goal. This also helped identify all the screens to be included in the design.
After the research phase, I decided to create a user persona to represent a typical user of the service. This process helped me to visualize a user, understand their behaviour and feelings, and imagine how to fulfill their needs.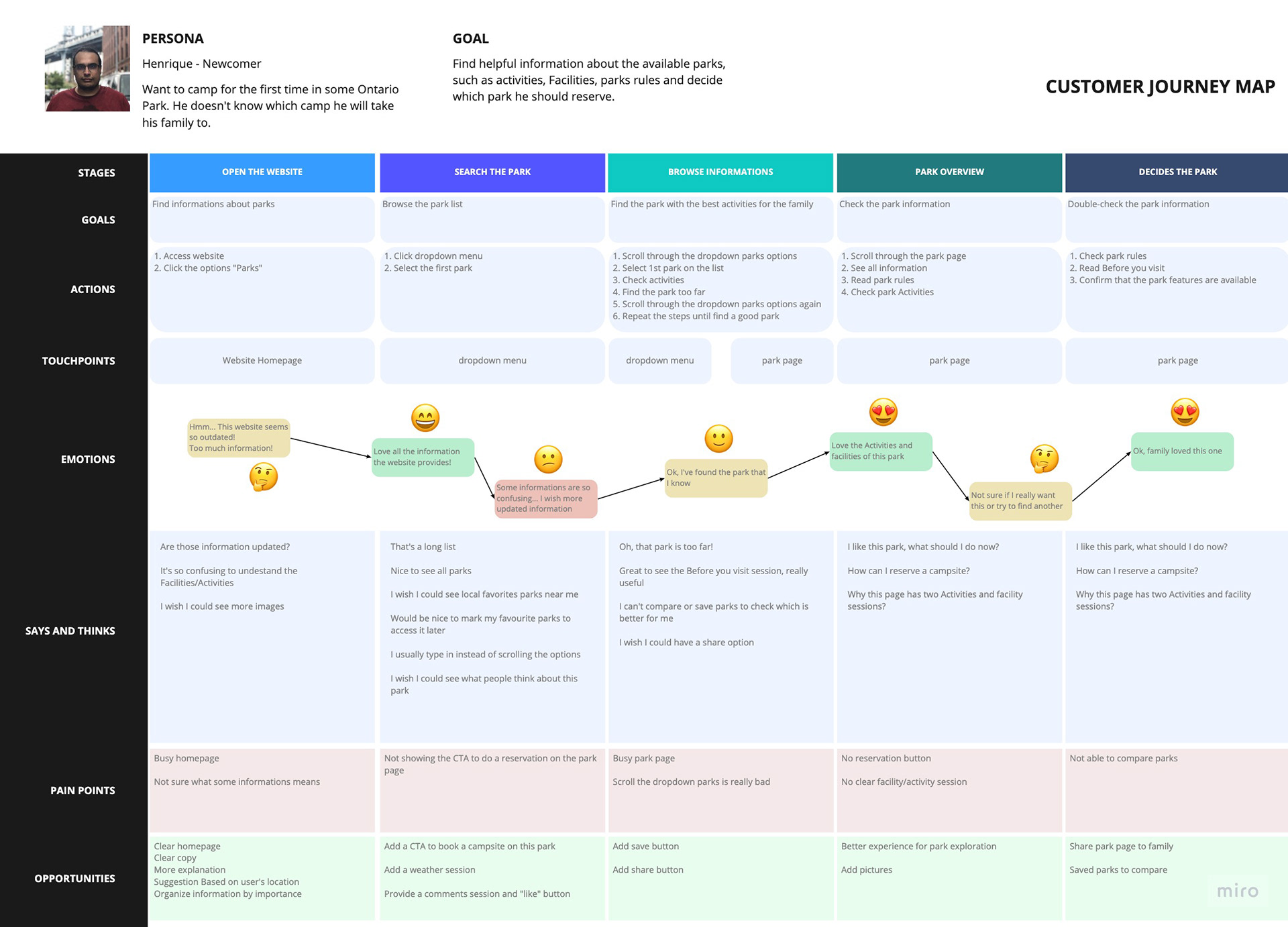 Task Flow Diagram
After deciding the functionalities we need to include in the app, I created a Sitemap diagram. This diagram helps hierarchically structure all the content that should be included in the application.
Main outputs from the research
The main improvement opportunities were:
- 

Search by local instead of the dropdown menu because some users don't know where the parks are. 
- Change activities to tags instead of icons. The actual icons could lead to misunderstanding, and symbols are limited. The tag is more friendly. 
- Add a feature with the campgrounds nearby because if the campground he wanted is full, he can book another one.
- Add the search for activities and cities.
UI Design & Prototype